[Comedy Against Evil]
[Get Rich Cheating]
[The Americans]
Comedy Against Evil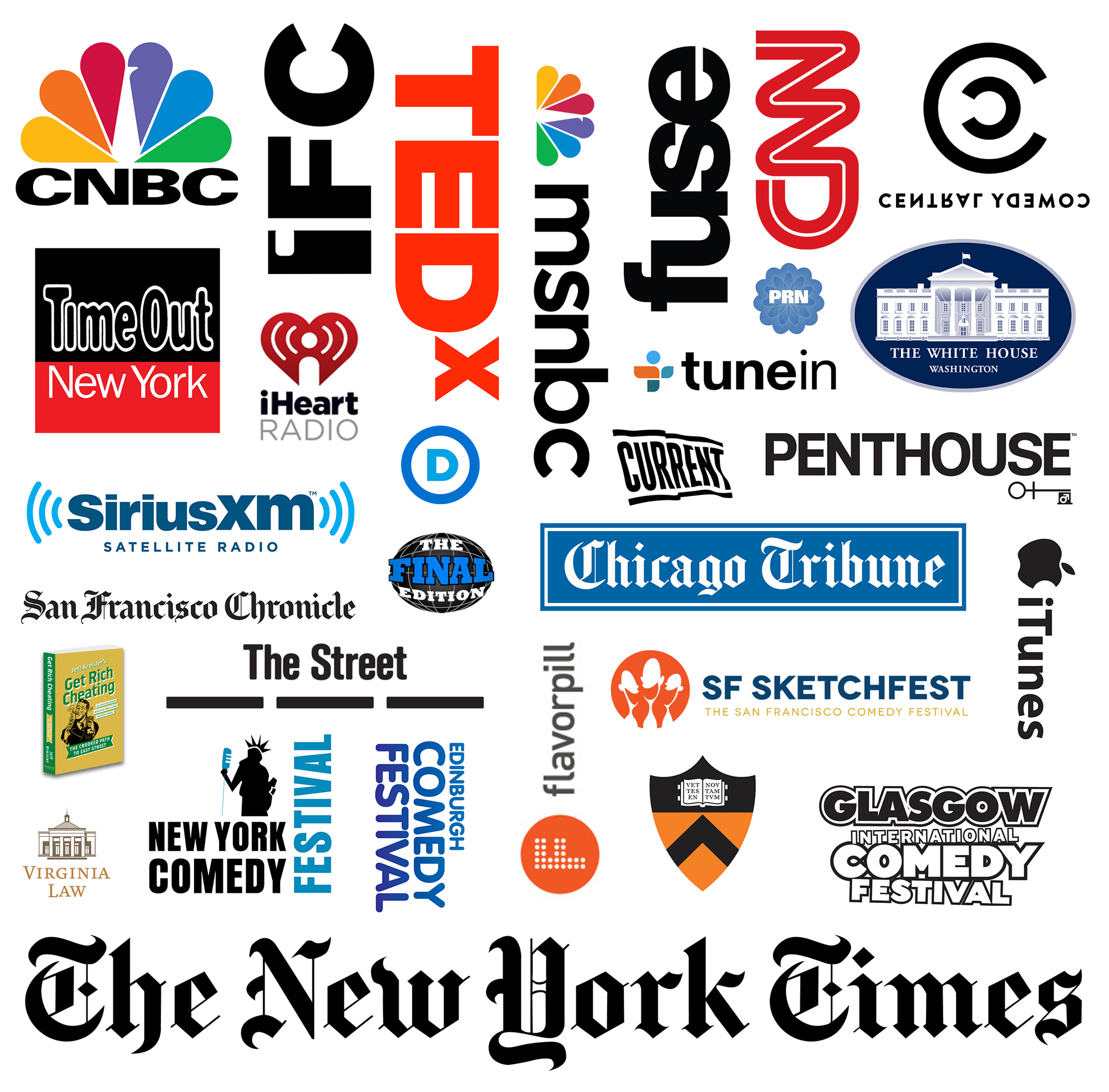 NEWS: Jeff wrote one of the most talked about speeches of the 2012 campaign, Michigan Governor Jennifer Granholm's at the Democratic National Convention. Reviews, clips, and more here
NEWS: Jeff is working with Rabble.tv to broadcast live commentary for all the 2016 Presidential debates with The Rude Pundit. They're also developing an election program of tour dates and programming. Stay tuned!
Jeff Kreisler's COMEDY AGAINST EVIL is THE forward-thinking, world-renowned political comedy tour.
Winner of the Bill Hicks Spirit Award For Thought Provoking Comedy, bestselling author of HarperCollins' "Get Rich Cheating," senior writer/producer for The War Room with Governor Jennifer Granholm on Current TV, Executive Producer of the syndicated Final Edition Radio Hour and Managing Editor of TheFinalEdition.com, regular talking head on MSNBC, CNN, the BBC, and Sirius/XM, radio host on The Progressive Radio Network, writer for Comedy Central's Indecision, Huffington Post, TheStreet.com, and IFC, cast member of Shoot The Messenger (from the co-creator of The Daily Show), executive editor of My Wall Street Journal, and more (!), Jeff Kreisler dissects American politics and culture with passion, absurdity, and hope.
COMEDY AGAINST EVIL has performed at the College Democrats National Convention, with major candidates for President, the Senate, the House, Governorships, and local offices, been featured on Air America, Sirius, and CBS Radio, and made political funny at millions of colleges and clubs, fundraisers for regional caucuses, conventions, festivals, rallies, protests, seminars and more.
HISTORY: In 2004, Bizarro's PolitiComedy A-Go-Go set out to change the world, touring Red, Blue, and Purple states. Years later, COMEDY AGAINST EVIL will still travel anywhere, anytime to support your continuing fight... against evil.
"Somebody get Jeff Kreisler on 'The Colbert Report'… As funny and as quotable as anything that appears daily on late-night TV. You are guaranteed a few laugh-out-loud verbal souvenirs to try out on your friends" - The New York Times


"Hilarious… His audience interactions are smooth and he knows how to stick the knife into our guts in the middle of a belly laugh." - Chicago Tribune


"Reflections so clever, you wonder why they aren't present in the political discourse." - Fest Magazine

"Kreisler is a master at creating lines that are masked by a kind of humor that pokes fun at anything and everyone, including himself. Whatever his tactic, Kreisler can get his political points and opinions across, and still manages to find favor with the audience... Jeff Kreisler's hilarious insights into society's foibles combined with his intelligence, knack for humor, and genial spirits made for an excellent hour of political humor that could be appreciated by both Democrats and Republicans... Kreisler serves as the intermediary comedic glue that has the power to unite political fronts across social spheres." - Boston College Observer

"Jeff Kreisler is the absolute funniest man alive. Your show completely revived our College Democrats chapter and even got some republicans to hang out with us! " - Brandeis Dems


"Without a doubt the best event UB College Democrats has ever put on! Jeff was wonderful to work with and absolutely hilarious! We literally laughed until it hurt. " - University of Buffalo


"Comedy Against Evil was awesome. Truly amazing and a triumph!" – Notre Dame


"Great stuff. Very Funny." - United States Senator Tom Harkin
List of colleges & groups here (scroll down).
COMEDY AGAINST EVIL makes politics awesome.
PAW feature: "Satirist Kreisler aims to be thinking-person's comic"
Get Rich Cheating
In these difficult times, there's only one proven path to ridiculous amounts of money: Cheating.
Get Rich Cheating is the satirical wealth-building seminar based upon the bestselling book, with Kreisler as Colbert-meets-Tony-Robbins, using the cheating of the day to provide absurd financial advice, encouraging the audience to embrace the real techniques he exposes in too-true detail. Everyone's cheating: Why not you?
Much more - including description, video, & international reviews at GetRichCheating.com.
Political Tale
Harmon Leon (Vice) teams up with Jeff Kreisler to produce a storytelling show focused on the subtle and meaningful impact politics has on our every day lives. An NYC staple, stories at Political Tale range from sneaking into Afghanistan, growing up Muslim in the Heartland and infiltrating Neo-Nazi hate groups to being banned from CNN and writing for George W. Bush.
It's The Moth meets The Daily Show.
Fools and Their Money
Jeff just sold a book on the psychology of money (with Professor Dan Ariely "Predictably Irrational") to HarperCollins and 20+ international publishers and has developed a talk on the subject, perfect for college students just learning to managing their cash. Jeff's excited to present the results of some incredible studies in unique informative, insightful and engaging ways. With humor, insight and interactive examples, it's sure to shed light upon our complex relationships with whatever amount of money we might have.

Be Smart & Funny
An interactive workshop about incorporating humor to organize, excite, persuade, campaign, and succeed – in business, politics, and life. They say, "'Smart & Funny' is the new 'Rock & Roll'." It's not easy, but it can be done. Jeff's work in TV news, as a high-profile speechwriter, bestselling author, keynote speaker, and with the co-creator of The Daily Show, MSNBC, CNN, and the stars of Monty Python, SNL, Colbert, Maher, and Spinal Tap have taught him how. He wants to share his knowledge with the students of today so they can be more effective and engaging leaders of tomorrow.
The Americans
"The Americans" is a live political sitcom that had a tremendously successful debut at the 2008 Edinburgh Festival Fringe.
"The Americans" is a fast-paced, absurd, multimedia sketch comedy show parodying American family, politics, and culture. When money problems hit the once wealthy Americans, the family members scramble to gain control of their crumbling world. Republican dad Sam takes desperate measures to reverse his growing credibility gap. Left-wing mom Libby vows to maintain the household's feng shui. Spoiled daughter Mary chases celebrity while fending off advances from her boyfriend Ira Raq.
What will happen to The Americans?
"Brilliant, cutting satire"
— Lizz Winstead, creator of "The Daily Show"
"A punchy multimedia sketch show parodying US political culture... the irreverence of American Dad and the borderline slapstick of Mr Show, the three Americans don't just represent the stereotypical US family, they are ciphers for the competing claims on the nation's future... Daily Show-style satirical... The Americans succeeds in being a colourful and engaging portrait of our stateside cousins."
— Metro
"a laugh-out-loud script"
— BroadwayBaby
"strong performances... an excellent send-up"
— Fest Mag
VIDEOS
** UPDATED VIDEOS COMING SOON**


More Jeff on TV - MSNBC, Current, CNN, FoxNews, BBC, etc. - here
Stand up (more - from 2016 tour & festivals - coming soon):
At a little Russian themed jazz bar, intimate, silly, drummer:

June 2016, Sunnyvale, CA:

At Jeff's monthly Caroline's show, performing between W. Kamau Bell & Dick Gregory:

Longer set in a theatre, fun, older (i.e. Romney was relevant):

(Here's even more (old) political stuff from the Glasgow Comedy Festival...)
"Slick, political sharp-shooting... His hour holds some of the smartest political material around. One of the things that makes Kreisler fascinating is his unashamed love for America; he just hates what has been done to it. The final section may be the most powerful description of the past few years of US history you'll hear... "
—Kate Copstick, The Scotsman
More Praise for COMEDY AGAINST EVIL >